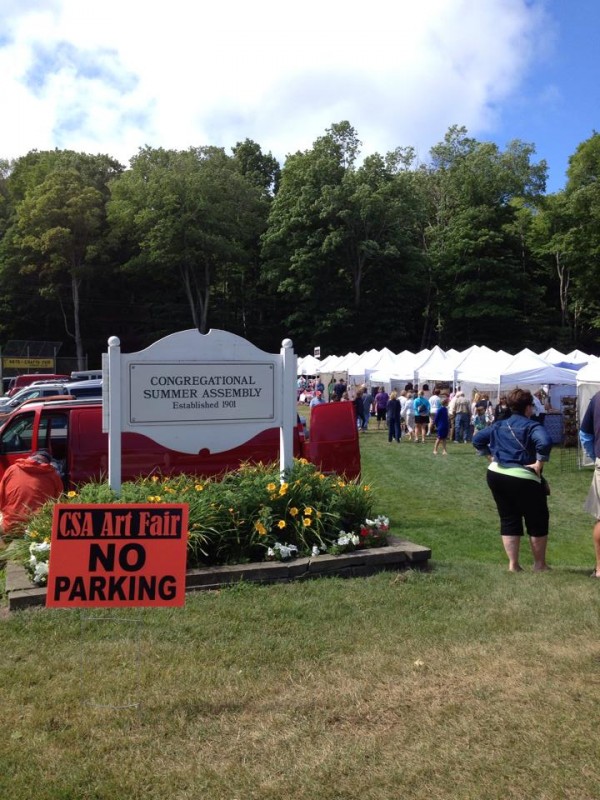 CSA ARTS & CRAFTS FAIR
9:30 a.m. – 3 p.m., Wednesday, July 24, 2024
Assembly Ball Field, M-22 at Crystal Lake
2128 Pilgrim Highway
The Congregational Summer Assembly (CSA) will host its annual Arts and Crafts Fair on Wednesday, July 24, 2024 from 9:30 a.m. to 3 p.m., rain or shine. With over 90 participating artisans from across Michigan and beyond, attendees will find:
Decorative art, including pottery wall hangings to oil paintings, watercolors and fine photography of stunning local landscapes

Wooden works – vases, bowls, birdhouses and furniture

Children's delights – handmade toddler outfits, American Girl doll clothes, books, pillows and blankets

Handcrafted herbal soaps, paper goods, baskets and furniture

Wearable art from t-shirts to dresses and hats

Jewelry of all kinds, from pieces crafted from old silverware to those made with semi-precious stones

Petoskey stone works of art - including jewelry, lamps, picture frames and furniture
The Cottage Treasures sale is from 9 a.m. to 1 p.m. inside the CSA Assembly Building, adjacent to the Fair. Cottage Treasures Donation Drop Off Dates and Times: Friday, July 19th 9 a.m. - 3 p.m; Saturday, July 20th 12 p.m. - 4 p.m; Sunday, July 21st 12 p.m. - 4 p.m; Monday, July 22nd 9 a.m. - 3 p.m.
The Silent Auction will be online again in 2024, powered by Givergy, and available to the entire community both local and beyond! The auction will feature new themed baskets, gift cards to local establishments, and experiences. Auction items will be displayed in the Assembly Building on Wednesday from 9am–1pm. There will be NO handwritten bid sheets this year. However, someone will be available at the Fair to help you register online and guide you through the bidding process. We will also have the option of placing a bid for you manually into the system if you choose not to register online yourself.

More information will be provided closer to the date on registration and viewing the items online. Bidding will begin on Tuesday, July 23rd at 1:00pm EST and ends on Wednesday, July 24th at 1:00pm EST. All winning items must be claimed by 2pm on Wednesday (7/24) by the successful bidder or their representative. Although we prefer to have items picked up in person, we will ship USPS at the recipient's expense. If you have any questions, please contact Jennifer Potter (314) 412-2000, Sara Watson (720) 270-2118, or Kate Kirkwood (570) 350-3930.
The Crystal View Café (located at 2175 Pilgrim Hwy across M-22) will be open for take-out from 10 a.m. until 4 p.m.
The CSA Arts and Crafts Fair is sponsored by the CSA Women's Association to raise funds to support local charities and projects to enhance the CSA. Visit www.summerassembly.org for more information about the CSA and https://mynorth.com/2015/07/congregational-summer-assembly-arts-crafts-fair/ for a history of the CSA Art Fair.
To become a vendor, contact Cynthia Rauschert at This email address is being protected from spambots. You need JavaScript enabled to view it. or call 309-255-5429. For additional information regarding the CSA Arts and Crafts Fair contact Jennifer Potter at This email address is being protected from spambots. You need JavaScript enabled to view it..
The Women's Association of the Congregational Summer Assembly (CSA) of Frankfort, Michigan invites you to exhibit in their annual Arts and Crafts Fair on fourth Wednesday of July. Click here for the

2024 CSA Arts & Crafts Fair Application

. The 2015 Arts and Crafts Fair was featured in an article in
Traverse magazine.
Rain or shine, the Arts and Crafts Fair will be held on the CSA grounds, two miles north of Frankfort, where M-22 and Crystal Lake meet (2128 Pilgrim Highway). The CSA Fair offers a wide variety of arts and crafts by both amateur and professional artisans.
The registration fee (see schedule below) must be sent in with your application. Your cancelled check is your acceptance notification. If immediate notification of acceptance is desired, please include a self-addressed, stamped envelope. The State of Michigan requires a valid Michigan Sales Tax License for fair exhibitors. All exhibits are shown at the exhibitor's risk, freeing CSA from any liability.
In keeping with the philosophy of the CSA to promote the physical, intellectual and spiritual welfare of the community, no guns or gun-like toys will be sold at the CSA Arts and Crafts Fair. Out of respect for our artisans, we ask that no mass-produced (i.e., buy/sell) items be displayed or sold.
PLEASE REMEMBER:
– The fair date is always the fourth Wednesday of July.
– Registration and set-up for the fair starts at 6:30 am. There will be absolutely no setting up the night before. No camping is permitted on the CSA grounds.
– Show time for the Fair is 9:30 am to 3 pm. No booth breakdown is permitted prior to close.
– Adult booth space is 11 x 11. If more space is needed, vender may apply for two booths.
– Application deadlines and Fees: Please note that the Adult booth fee is $75 for applications received by June 1st. After June 1st, the fee increases to $85 per booth. These fees also apply to CSA members.
– Teens and children may apply to exhibit in the designated children's area. They will not be assigned a specific space. Fee is $10 for teens aged 13-18 and $5 for children 12 and under.
– Non-Profits will not be charged a fee to exhibit but space is limited and awarded on a first come, first served basis.
–Checks for all fees are to be made payable to CSA Women's Association.
The Vendor Coordinator is Cynthia Rauschert 309-255-5429. Checks may be sent to her at: PO Box 602, Frankfort, MI 49635.
Questions may be directed to her at
This email address is being protected from spambots. You need JavaScript enabled to view it.
.
– In case of cancellation by booth renter, there will be no monetary refund.
– You can see the

Vendor Q & A

on the CSA Web site at www.summerassembly.org (under "Art Fair" drop down menu at top of home page).