See below to read the 2023 Women's Association Newsletter with all information and events or click here to download a pdf copy.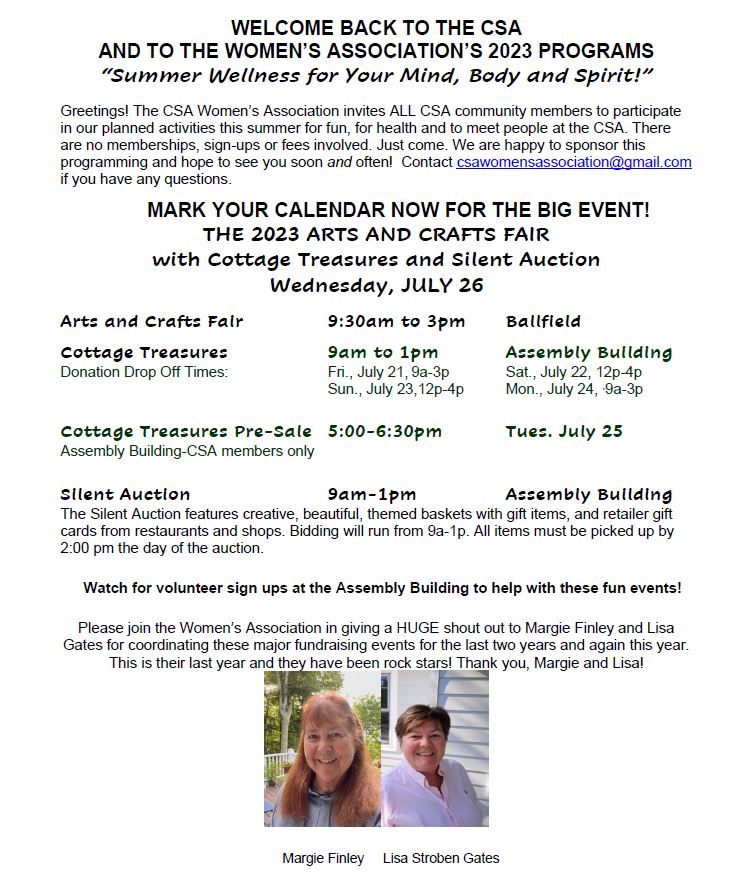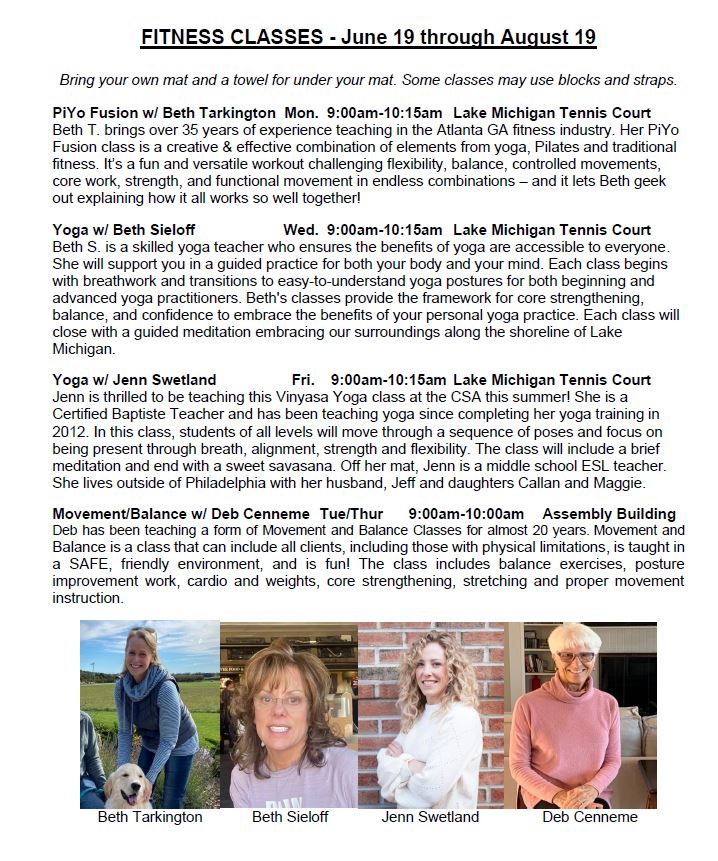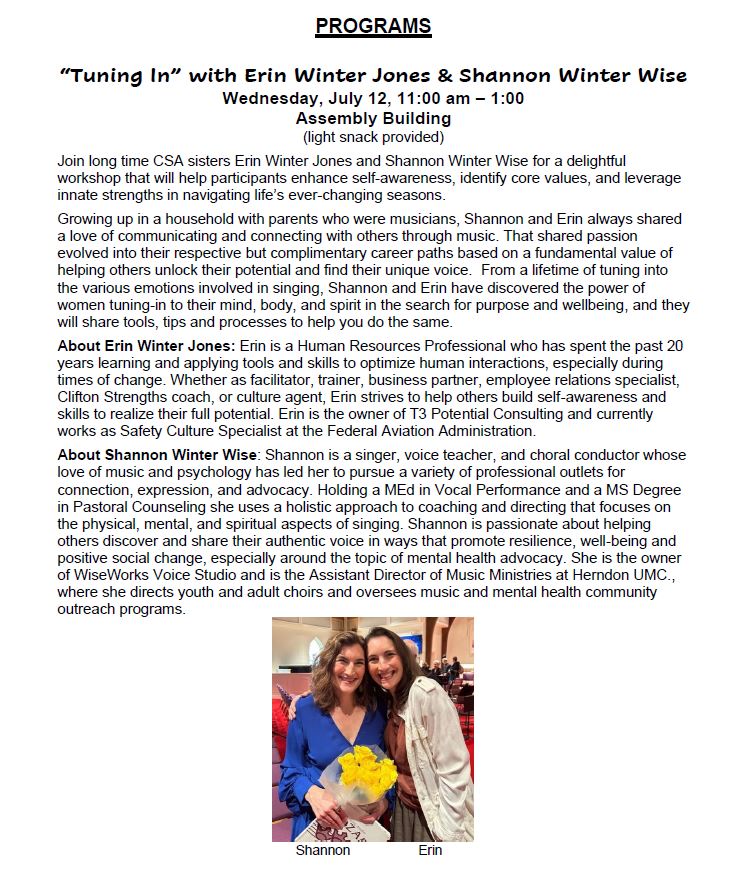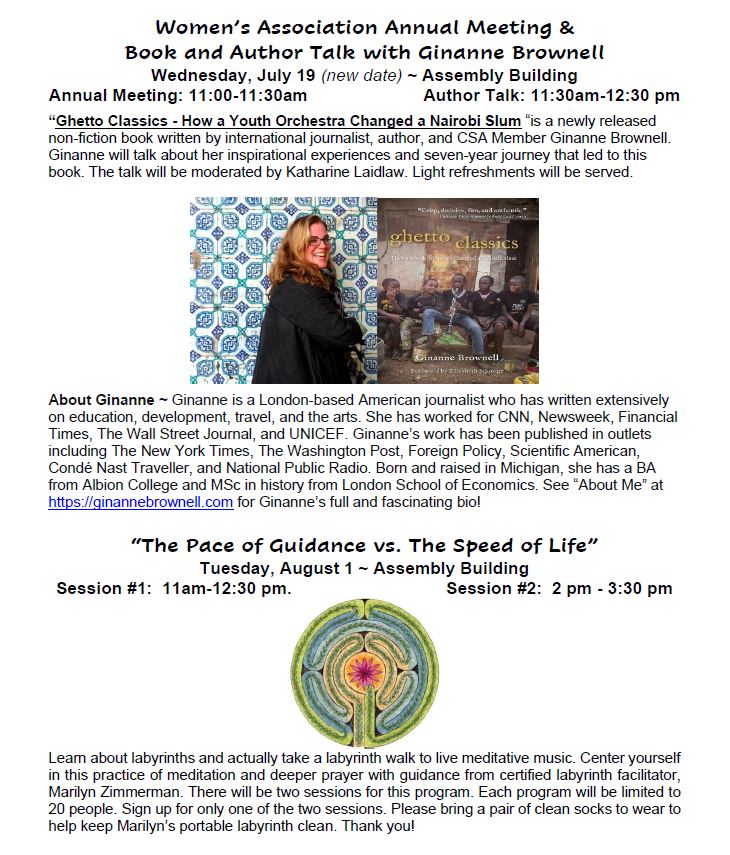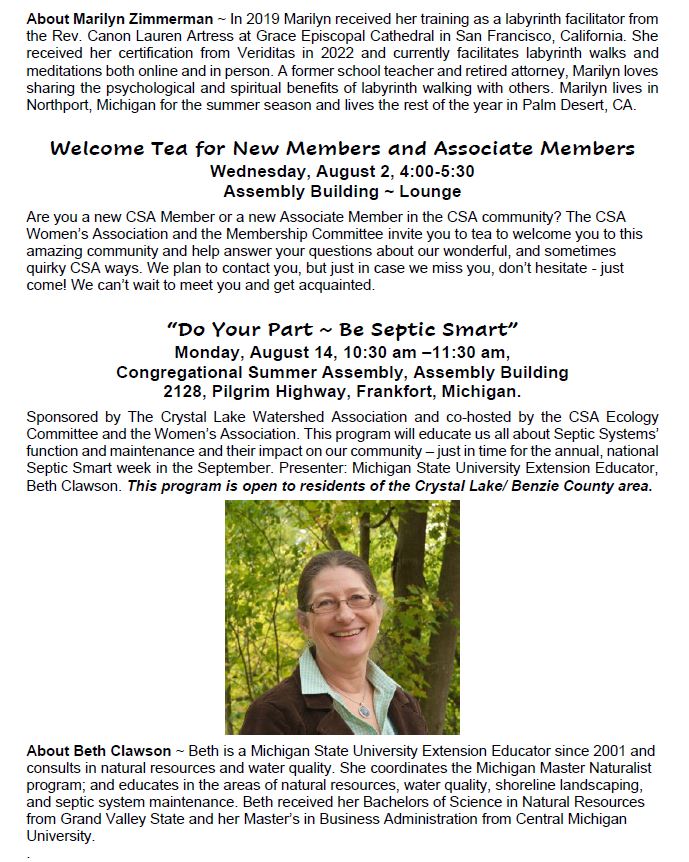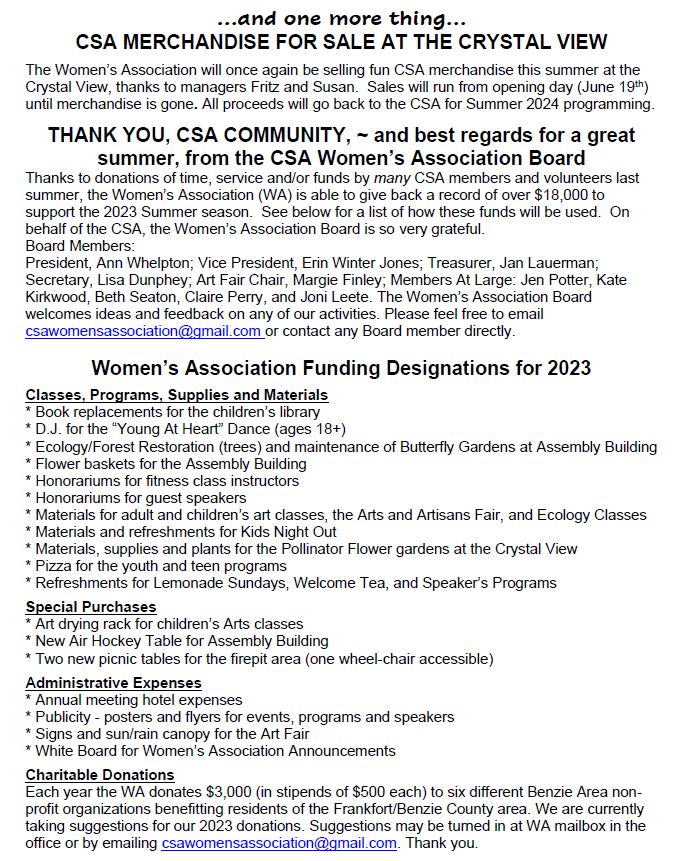 ~~~~~~~~~~~~~~~~~~~~~~~~~~~~~~~~~~~~~~~~~~~~~~~~~~~~~~~~~~~~~~~~~~~~~~~~~~~
Women's Association Purpose:
"The purpose of this organization shall be to promote the social welfare and intellectual growth, contribute services and share in the financial support of women and children within the CSA and its greater community." The Women's Association was founded in 1926. It has its own Board of Trustees and bank account and is an ex-officio member of the CSA Board of Trustees. The Women's Association, under the leadership of the Finance Committee and approval of its Board, will consider funding requests proposed by Association members, the CSA Board of Trustees and/or Committees, and other members of the CSA community at large. Funding Criteria:
Enhances the education and training needs of women and children

Enhances the recreational and creative needs of women and children

Enhances the health and safety of women and children

Enhances the greater appreciation for nature and the environment

Promotes the spiritual and religious welfare of women and children
In the past, the Women's Association has approved funding for speakers, for supplies for Art Classes and Workshops, for the Children's Library, Ecology Projects, Tennis Program, Lemonade Sunday, Youth Programs and Equipment for the Assembly.
The primary source of our funding is the annual Arts and Crafts Fair and and associated events held on the fourth Wednesday of July. More details about these events are available on these links. INFORMATION, AND Q&A FOR VEND0RS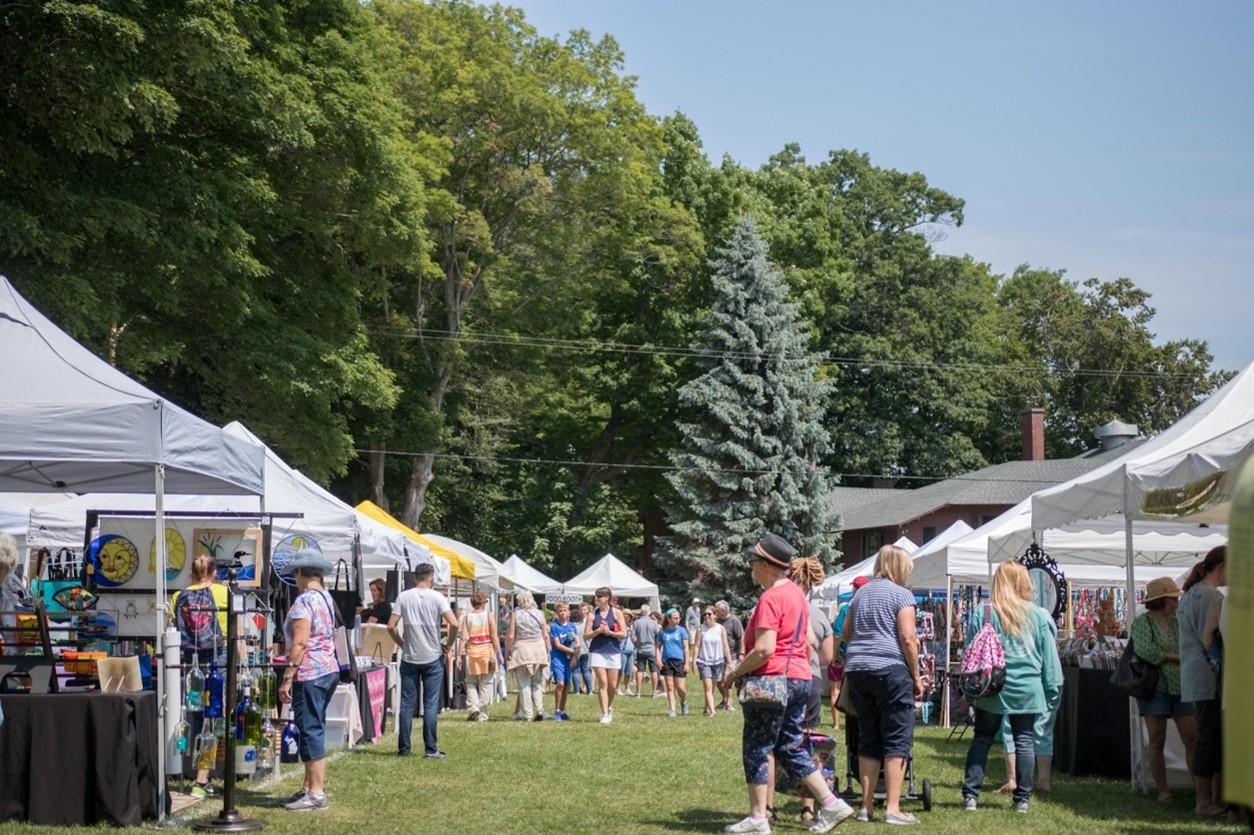 The CSA Women's Association looks forward to "FUN-Raising and "FUND-Raising" with you, and seeing you at our events! Click here to Learn More about us
Questions? Suggestions? Comments? Contact: This email address is being protected from spambots. You need JavaScript enabled to view it.
Women's Association Summer 2022 RECAP
The Women's Association's summer activities came off without a hitch thanks to the CAN-DO attitude, creativity, and fun supplied by so many who contributed to our efforts this summer. With CSA members of all ages, we learned, played, laughed, worked and provided good deeds throughout the CSA community. PLUS we successfully raised funds to secure programs and projects for next summer ~ 2023!
How do we say THANK YOU to everyone who contributed? Let us count the ways:

First – for the fitness classes - thank you to all the instructors of yoga, pilates/yoga fusion, water aerobics, and strength and balance classes.

Second – to the many program leaders – Youth, Adult Art classes, Ecology, Arts and Crafts, Waterfront - once again you filled the summer calendar with wonderful classes.

Third – to our two outstanding summer program featured guests – Michael Bofshever for his original, live performance of his one-man show PLEASE DO NOT SING: A Story through Poetry and Prose; and Liz Kirkwood, Executive Director of FLOW (For Love of Water) for her engaging and informative presentation. Thank you for your excellence and inspiration! For those who were unable to attend, a copy of her slides can be found by clicking here.
Fourth – To Fritz and Susan and the team at the Crystal View who help sell the Women's Association merchandise.

And last, but DEFINITELY not least – thank you to Margie Finley and Lisa Gates for Co-Chairing the Art Fair and Cottage Treasures, along with the Treasure Trove and Silent Auction (Laura Millar and Renee Fisk). The 2022 one-day event garnered just shy of $17,000 and came within just dollars of last year's all-time record. Shout outs go to ALL the volunteers helping in the days leading up to the Art Fair and the day of – pricers, sorters, parkers, vendor relievers, bakers, merchandise sellers, set-up teams and clean-up crews. You know who you are, and we appreciate you SO much.
A special shout out goes to Amy Somero, Elaine Walton and the office staff; and Tom Mauer and his maintenance crew. Thank you for your back up and your help with "heavy lifting" when we needed it most.
The Women's Association offers our appreciation and thanks to Jane Karraker who is leaving the Board as Secretary, and Nancy Gaffney who served two terms (plus some) as Chair. Their leadership has been amazing.
If you have ideas, suggestions, or input for the Women's Association as a wrap-up to this summer or for next summer season, please let us hear from you. The Women's Association will have several leadership slots open starting next summer and we'd love to tell you more about how you can get involved. Email This email address is being protected from spambots. You need JavaScript enabled to view it. or President Ann Whelpton at This email address is being protected from spambots. You need JavaScript enabled to view it..
LEARN MORE ABOUT THE WOMEN'S ASSOCIATION

FINANCE POLICY AND ANNUAL REPORT
The Women's Association, under the leadership of the WA Finance Committee and approval of its Board, will consider funding requests proposed by Women's Association members, the CSA Board of Trustees and/or Committees, and other members of the CSA community at large.
Funding will be considered for programs and purchases which enhance opportunities for women and children in these categories:
Education and Training
Recreation and Creativity
Health and Safety
Appreciation for Nature and the Environment
Spiritual Well-being
Welcome, Inclusion, Community Connection and Access
Administrative Needs of the Women's Association
WOMEN'S ASSOCIATION FUNDING APPLICATION
To be considered for funding for specific projects, programs and/or purchases for the 2023 Season, please complete the CSA Women's Association Funding Request Form. Please note the following:
Funding requests to the CSA Women's Association will be accepted from October 1st through June 1st of each fiscal year on a rolling basis, pending the availability of funds.
Each funding request must fit one or more of the funding categories.

The earlier requests are received during the Oct. 1 - June 1 time period, the better the Women's Association is able to plan its overall budget and programming for the coming season.

The WA strives to honor all eligible funding requests, however, based on the variability of each year's funding raising and circumstances, funding is not guaranteed.
Questions? Email This email address is being protected from spambots. You need JavaScript enabled to view it.
PROGRAMS AND PROJECTS SUPPORTED BY THE WOMEN'S ASSOCIATION
The service, support and funding generated by the Women's Association contributes to many CSA and community activities, programs and projects. Below is a list of recent initiatives supported with WA funds:
CSA Programs and Activities
Art Workshops

Authors and Artisans Fair

Children's Library

Ecology Fun

Ecology Interns

Fitness Classes – yoga, Pilates and water aerobics

Landscaping

Lemonade Sunday

Speakers

Youth Arts and Crafts Classes

Youth Program – weekly pizza

Welcome gifts for CSA Births

Welcome Teas to meet new members
CSA Special Projects and Purchases
Butterfly Garden at Crystal View

Tennis Shed

File Cabinet for Membership

Beverage Recycling Receptacles and Recycling Bin Lids

Materials for replacing swim rafts

Access Ramp at entrance of Crystal View
Charitable Donations to Benzie County Non-Profit and Social Service Organizations
Each year WA makes donations to area non-profits and/or social service organizations that directly support programs for women and children in Benzie County. We encourage anyone interested to support these worthwhile organizations which serve both year-round and seasonal residents. Organizations receiving funding from the Women's Association in recent years include:
BACN - Feminine Hygiene products

Benzie Senior Resource Center - Senior Essential Needs Fund

Cognition Beulah - Interactive Science and Discovery Playground

Crystal Lake & Watershed Association - Swimmer's Itch Prevention Program

Grow Benzie - Early Childhood Nutrition Program/Neighborhood Center Program

Imagination Library, Frankfort - Monthly books to registered children (National Dolly Parton reading program)

Paul Oliver Healthcare Foundation - Pediatric ER – iPads/cover/headphones

Philips Baby Pantry - Snow suits



Fundraisers
The Women's Association's impact and contributions would not be possible without successful fundraising, which often involves many volunteers from the larger CSA community. The Women's Association primary fundraiser is the annual Arts & Crafts Fair and associated events:
The Annual Arts & Crafts Fair
Artist Booths

Cottage Treasures

Silent Auction

Treasure Trove
Merchandise Sales
There is no formal "membership" in the Women's Association. All CSA members are welcome to participate in, or volunteer for, any Women's Association activity or event.
The Women's Association is led by a board of very dedicated, active, fun-loving CSA volunteers who strive to make the CSA a vital, safe, and welcoming community. The board meets in person monthly during the summer season and typically holds two or three virtual meetings as needed throughout the year.
New Women's Association Board members are nominated (or self-nominated) and approved at the annual meeting held in the summer and serve for a term of three years. Due to life's unexpected nature, some Board members serve for two years, and we strive to be flexible.
The Women's Association has one seat at the CSA Board of Trustees meetings throughout the summer, as well as at the winter meeting in November. Typically, the attendee is one of the Co-Chairs or the Communication Chair.
Board members can be contacted at This email address is being protected from spambots. You need JavaScript enabled to view it.
2022-2023 WOMEN'S ASSOCIATION BOARD
President

Ann Whelpton

Vice President

Erin Winter Jones

Secretary

Lisa Dunphey


Treasurer

Jan Lauerman

Arts & Crafts Fair Co-Chairs

Marjorie Finley and Lisa Stroben Gates

Merchandise Chairs

Jen Potter, Claire Potter, and Joni Leete

New Members Welcome

Beth Seaton and

Kate Kirkwood
FINANCE POLICY AND ANNUAL REPORT
The Women's Association budget and expenditures are approved by the WA Board, managed by the WA Treasurer, and reported to the CSA Board of Trustees Treasurer and Budget Committee. For more information on the Women's Association finances and budget, please contact the Women's Association at This email address is being protected from spambots. You need JavaScript enabled to view it.