August 1, 2018
We are lucky to have in our CSA community writers, poets, novelists, playwrights, biographers, actors, directors, producers, painters, potters, dancers, singers, musicians and a plethora of other artistic talents. Some people who have professionally gone into a number of artistic careers got their starts in operettas, participating in arts and crafts and singing in the Sunday choir.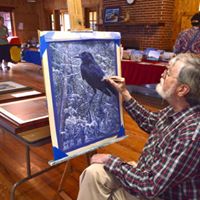 Along with our regular operettas, arts and crafts classes, authors and artisans gatherings, and concerts, over the years many other events have taken place. As Stunt Night was revived, it became clear that not only does the CSA love fun cultural events, but also loves to share serious creativity. Poetry recitation, serious music and story reading sometimes have shown up in the Stunt Night programing, along with silly and playful offerings. Looking back through Assembly history in the past plays were performed along with--or instead of--operettas. In recent years, different members of our community have offered some inspiring artistic events. Bruce Clements directed a reader's theater performance of the play "The Winslow boy" by Terrence Rattigan; Gibson family members have offered magical evenings of poetry and music.
So, how did the Arts Committee happen? A few years ago, a group of CSAers started talking about expanding arts programing. A proposal was brought before the Board of Trustees and the Arts Committee was formed in the fall of 2015 and started activities last summer. The first co-chairs of the committee were Barb Perry and Jane Taylor. While Barb leads the CSA as President this year, Jane Taylor leads our artistic community as the chairperson of the Arts Committee.
The Arts Committee hopes to achieve two things: first, we have many creative ideas and are looking for individuals who will take charge of making them a reality; second, we want to support artistic endeavors at the Assembly. So when a member of our community dreams up something to try out here, we want to encourage and facilitate those dreams. We especially encourage active participation in the arts—not just passive spectating (fun though it may be!)
This year, the arts are alive and well at the CSA in many of the usual ways that our community is used to seeing including Stunt Night, Artist Workshops (with help from the Women's Association), periodic poetry challenges, and a book discussion group. All these current offerings were created or supported by the Arts Committee.
Two new workshops demonstrate the goals of the Arts Committee. Friday afternoon writing gatherings were created because a member of the committee, Julia Gibson, felt writers would benefit from the focus and intention in gathering to write. Friday afternoons at 2:00pm in the Lounge, all are welcome to join the quiet gathering of writers, whatever your area of writing might be.
Another workshop was created when members of the committee noticed that sometimes participants felt lost in the arts workshops. We thought it would be useful to offer solid training in basic drawing skills, a training that is missing from so many people's background. We approached Judy Dawley about starting a series of instructional art classes to help people develop those skills. On Thursday afternoons the packed class consists of people of every experience level. Everyone learns something new. Judy has a strong background in teaching artistic skills, and she was the perfect person to create this series of classes. She offering a total of six classes this summer each concentrating on different skills. Come join us Thursday afternoons, July 12 – August 16, from 2-4pm in the Assembly Building.
In the future, the committee wants to help artists with whatever they dream of doing here. We can imagine things like a Reader's Theater, instrumental music groups, hymn-writing workshops, trees-in-art celebrations, storytelling evenings at the fire pit, open mic performances, photography gatherings and plein air painting throughout the Assembly. We hope to coordinate events with the Spiritual Life Committee, with whom we feel we have some overlap of interest, and also with Ecology and Youth programming.
So bring your own ideas – we want to hear them! Ask for support from the Arts Committee whenever you want help creating a new activity. New members who are ready to work on some aspect of the programing are welcome to join the committee. We look forward to fanning the flame of creativity in many new ways. We hope you are enjoying the activities we have started and would love to hear from you!