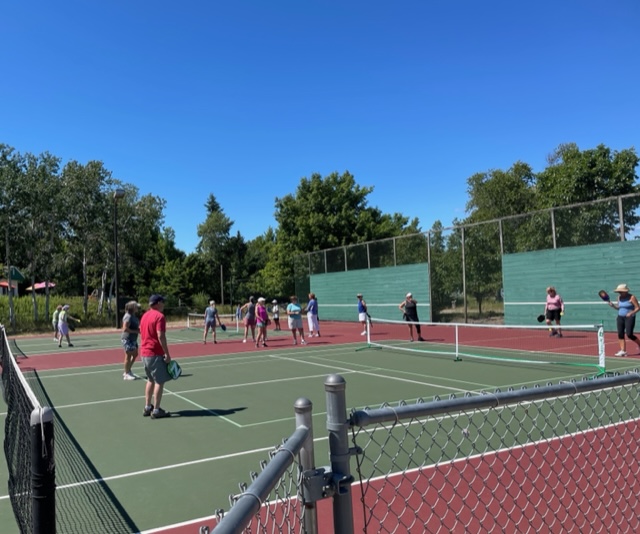 PICKLEBALL is BACK, and better than ever! The Crystal courts are lined. Bring your paddles and balls (nets are already there!). Come one, come all! Want more information about this growing sport? Click here usapickleball.org
Tennis Tournament Rules for Registration and Play
CSA Tennis Tourney Rules for Registration
The 2022 CSA tennis tournaments are scheduled for July 5 through July 9, and August 1 through August 6.
Contact person for 2022 tournaments is Dennis Nahnsen at 352-9448 or 314-606-5000.
CSA office phone is 231-352-4751.
Tournament Rules:
1. Only current Assembly ticket holders are eligible to play in the tournaments. Current valid woods Courts stickers are required of all adults 17 and older.
2. Participants shall register in person no later than 3:00 pm on the Saturday immediately preceding the start of the tournament. A person may call the CSA office prior to 12:00 noon that same Saturday to register if unable to register in person. There are no exceptions.
3. A player may sign up for a maximum of two events.
4. If entering two events, that player shall be available to play two matches in a single day.
5. A player shall be able to play in the first round on the first day of the tournament.
6. A player shall be available to play all week at the time scheduled by the CSA Tennis Committee. Schedule conflicts must be mutually agreed upon, and the CSA Tennis Tournament Contact shall be informed of the changes in advance of the match.
7. Each player/team shall provide a new can of balls at the beginning of a match.
8. Age requirements for matches:
-Seniors- 60 years of age and older
-Adults- 17 and older
-Boys and girls- 16 and under
-Jr. Boys and girls- 12 and under
-Novice- 9 and under
-Mixed parent/grandparent with child/grandchild (any combination of youth (male/female) and parent/grandparent (male/female): two brackets:*
-Youths age is 8 to 10
-Youth age is 11 to 14
*New in 2022
CSA Tennis Tourney Rules for Play
The CSA tennis tournament is conducted by the Tennis Committee with input and support of the tennis staff. Questions on the tournament planning and implementation may be directed to committee members:
Dennis Nahnsen 314-606-5000
Alan Marble 517-388-0945
The Tennis Program Manager Steve Shreiner's number is 231-383-0813.
1. Adults, and 16 and under, play 2 out of 3 sets, with a 7 point tiebreaker, changing sides every 6 points. This group will play at the Woods courts.
2. Players 9 and under, and 12 and under, play an 8 game pro set with a 7 point tiebreaker at 7-7. This group will play at the Crystal courts and the Michigan court.
3. The parent-child, grandparent-grandchild tournament play an 8 game pro set with a 7 point tiebreaker at 7-7. This tourney will play at various sites to be determined because of the large size of the draw.
4. All tie-breakers are 7 point tiebreakers, with additional scoring to provide a winning two point margin. Players change sides of the court every 6 points.
5. Warm-up time is limited to 8 minutes.

6. Players will record their scores on the draw sheets on the Assembly Building porch immediately following completion of their matches.

7. Woods courts monitors will help assign courts as the courts open up.

8. Court monitors will act as mediators in case of disputes over line calls or scoring.
All players shall check-in at the monitor's desk before play, and shall enter
scores of their matches on the brackets courtside.
9. Volunteers and staff will monitor matches for behavior and coaching (coaching by voice, text or hand signals is prohibited in CSA tournaments).
A. Minor infractions are progressive in nature, with 3 steps: warning, followed by game penalty and finally disqualification. "Minor " infractions include yelling, dropping racquet on purpose, taking too much time between points and games, and coaching.
B. Major infractions are also progressive, with 2 steps: game penalty, then disqualification. "Major" infractions include audible profanity, racquet and/or ball abuse.
10. Players' relatives and friends may be reminded of the basics of good sportsmanship and should refrain from clapping for errors or double faults. Encouragement is welcome, but no coaching or strategizing.