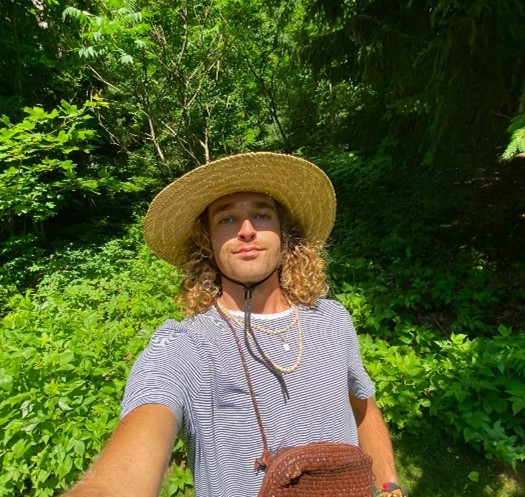 As the climate changes and more invasive species find their way to CSA's forests, an urgent question arises: what can we do to keep our forests thriving over the years? That's where Evan Hammon, our new Forest Care Fellow, comes in - and his expertise and connection to the area make him the perfect man for the job.
Evan was born and raised just around the corner in Frankfort, and he got his degree in Environmental Science at the University of Michigan. Though he only joined the CSA community earlier this summer, he knows his way around. "I've always loved the forest here," he says with a glance out the window. "I feel really connected to the environment - the lake, the forest, the beaches, everything." His job gives him the opportunity to understand the forest and everything to do with it - both the conservation measures done in the past, and the threats of the future. It's important business, and as time passes, he hopes to share this information with the CSA so they can be aware of the changes happening right in their backyards.
He doesn't have to be the only one getting involved, though; Evan is also leading plenty of activities to help the community get to know their forests better. One of his most prominent activities are his weekly forest walks, where he guides a group through the forests to point out important and interesting things about our forests (join him every Tuesday inside the Assembly Building at 10am). He's also developing a restoration guide on how homeowners can keep their property healthy, and he offers the opportunity for him to come survey individual plots of land after the forest walks have concluded.
You can contact Evan at (231) 651 9769 or for more information about our forests. Also, see his introduction video at https://youtu.be/e_wbC88zkYo.