What a fantastic summer for our youth! We hope the connections and experiences they had will be cherished for years to come. Before the 2022 Season officially closes, the Youth Committee wants to share some highlights and also some very special thank you's. We are already planning for Summer 2023. Save the date and spread the word for Summer 2023 Teen Dances - July 18 and August 1!
Love,
The Youth Committee
Christie Bednar, Diana Campbell, Luette Frost, Jen Hamdorf-Torrens, Jonie Leete, Stacey Peoples, Sophie Scanlan, Jenn Swetland, and Shannon Wise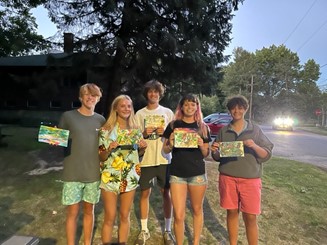 Highlights …
Successful implementation of separate middle school and high school programs
July Teen Dance with over 100 participants from the surrounding community
August Teen Dance with over 100 participants from the surrounding community
Middle School Lock-In
Crystal View After Hours Party
Interplay with Trebuchets STEM Event
Beginner Needlepoint Class
First ever Youth Leader Training
Field trips using the Benzie Bus
Remind App for easy and safe communication with families and youth
Variety of activities (i.e. bonfires, nature hikes, tie dye, volleyball/newcomb, soccer, tennis round robin, ping pong tournament, craft nights, water sports, Bigger & Better
Thank You's…
The Board of Trustees and Ad Hoc Strategic Committee for listening, acknowledging and supporting the reimagining of youth programming!
Stacey Peoples for leading a meaningful and impactful training for staff interacting and leading our kids and youth.
Teen Dance Chaperones - Alan Marble (security), Margie Finley, Carol Johnson, Jeff Swetland, Sam Rosenblatt and Zoe Bednar
Steve Tezak of Starbase Alpena for leading an incredible "Interplay with Trebuchets" STEM Event (also special thank you to the ENTIRE Tezak & Dawley Family!)
Amy and Sarah Blessing of Loop for leading "Learn to Needlepoint"
Johnny O'Neal for beta testing a game with our middle school youth.
Heather Lotzar- our Youth Director for her willingness and compassion to take everything on this summer.
Our Youth Leaders - Sasha Nieman, Madeline Hart and Matthew McCormick
Amy Somero - for her consistent support, positivity and feedback to help make this summer so memorable for our youth.
The AMAZING (anonymous) community member who made a generous donation to Youth Programming the day after the July Teen Dance.
Our community - for the constant positive and supportive feedback!