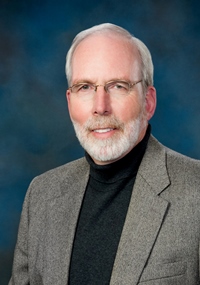 By Julia Davis - June 16, 2016
If the CSA has any living legends, then Ken Cox is certainly one of them. Even before becoming director 15 years ago, Ken was known around the CSA not only because he was the athletic director for over two decades but also because of his numerous roles in the operettas and directing the choir. A lifelong CSAer (he used to work as a college student at the now defunct gas station behind the Crystal View) on the off season Ken was a professional opera singer for 20 years. He now chairs the voice department and is the director of the opera theatre program at Colorado's University of Denver. CSA communications intern Julia Davis spoke with him about getting the CSA ready for summer, chasing raccoons out of cottages at 2am and his most memorable operetta. Excerpts:
How do you get the CSA summer ready?
In February, I call the chairs or directors of the programs and we discuss employees for the summer. Contracts usually go out in early March to about 40 people. I'll probably get the choir music together this weekend, and next week I'll have a clean up party at the meeting house. I'll probably have about a dozen people come out and help. Every summer it seems like people show up who don't know somebody else and so they'll start talking and figure out how their families go way back [and] it's fun just listening to the conversations.
What do you think is the most difficult thing to do in the preseason?
In terms of hours and labor, getting all the buoys out for the sailboats and the motorboats, and getting the lifeline out. This year I've got a brand new volunteer - Jason Burt, one of our youngest trustees, and his dad, Jay. That's a big job, working in the cold water out there, but they're just going at it. The more people I can get involved helping at the assembly, the greater sense of community we have.
Is being the managing director a 24-hour job?
It is, but not working all the time. You have to be on call. Some summers ago, I got a call around 2am about a raccoon in a cottage. So, I went over there with my long-handled-fishing net. They had a dog that was barking and there was this poor little raccoon all curled up in the corner like, "please don't eat me, dog." I dimmed the lights and the raccoon started to relax and I tried to feed it a little bread. But it was pretty traumatized, so I very carefully helped it into the fishing net, opened one of the windows, put it out on the ground and it happily walked off into the woods.
How has the CSA changed over the years?
Some traditions we don't do quite the same way anymore. For example, on the 4th of July we would have games on the ball field, which we still do, but then afterwards half of the field would be taken up with people sitting on their blankets and eating picnic lunches and just visiting with each other. Some of the activities have changed, some have disappeared, and we've got some new activities. I once [overheard] one young dad saying to another, "You know, there aren't places like this anymore." And I thought, "That's exactly right." The Assembly really is a place that time has forgotten.
Tell me a bit about your career as a singer.
I went to Wheaton College and was a voice major, but I was determined to not sing opera. I couldn't believe that people wanted to be involved in opera because it was so archaic. I ended up winning the National Association of Teachers of Singing central regional auditions as a junior singer. People came up to me afterwards and they told me what a great operatic career I had in front of me, and I was like, "Oh no, opera." But my voice teacher took me to an opera in Chicago, and I was mesmerized by the voice of the dramatic soprano. So when I did my Masters at Indiana University, I did a lot of opera. I went from the smaller regional U.S. companies to the larger houses in this country, and then to singing in Europe. I sang and travelled for 20 years. Cindy and I got to see the world.
Do any highlights from traveling the world come to mind?
Oh yeah, a lot of them. I sang in Sydney, Australia [in] a wonderful production of "The Return of Ulysses" by Claudio Monteverdi. It was right around New Years, and I remember being invited by the mayor to be his guest on the patio of the Sydney Opera House. There was the most amazing fireworks display I have ever seen.
Which operetta sticks out most to you?
I'd have to say the first time we did "South Pacific" in the early 1980s. Molly Sturges, a 15-year old at the time, showed up for the tryouts. She sang the song "I'm Gonna Wash That Gray Right Out of My Hair" because it was a commercial for Clairol hair coloring. We gave her the part because she was so good. I was directing the music and singing the lead. I used all of my friendships [to get people involved], so we had a great chorus. We had guys you would never normally see up on stage. We did two performances and every seat inside was taken; people were crammed in the pews, sitting on the windowsills and it was about five deep all the way around the outside with people looking in. That's the one out of all the others that stands out for me.