by Julia Davis - July 8, 2016
I spoke to Dennis Nahnsen, one of the chairs of the tennis committee, about the July tournament. Along with his brother-in-law Alan Marble, Dennis has been the co-chair of the tennis committee for several years. A latecomer to the game of tennis Dennis only started playing about 15 years ago but it's a sport he loves and one he wished he started playing as a kid. He gave me the inside scoop on tennis at the CSA – players to watch this summer, how the committee organizes the tournaments and what it takes to be a great CSA tennis player.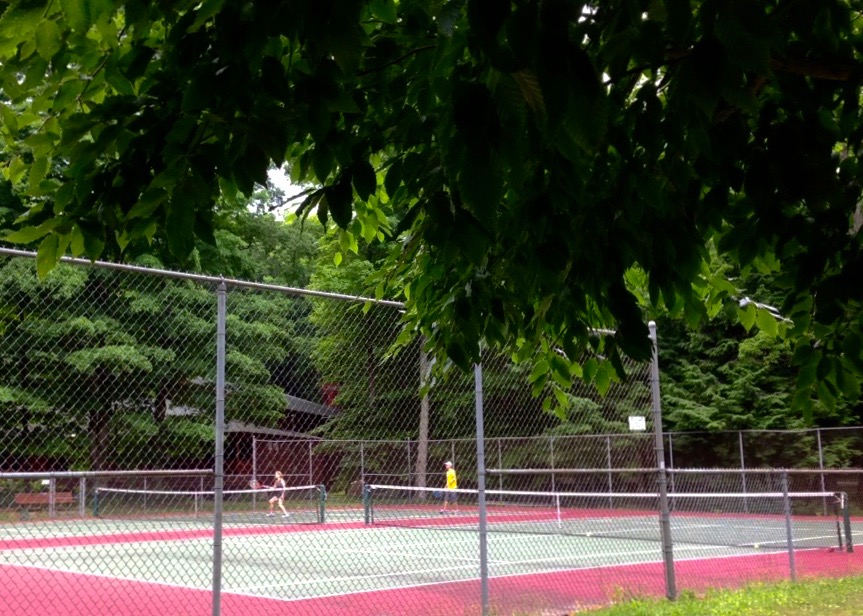 What are your responsibilities as chair of the tennis committee?
We try to make sure that the CSA provides the best tennis opportunities as possible for people to play on various levels. We have to run the tennis tournaments as efficiently and as fairly as possible. And to supervise, or sometimes police, in order to make sure that things are running smoothly and that dues are being paid.
So what are the challenges you face when running the tennis tournaments?
We have very few challenges with the tennis tournaments. We've had the same few people, Bob Norris and Bob Brown, who do the seeding for us every year. They've been playing here for over 40 years so they know most of the players and they do a pretty good job of seeding them. But it's a little bit challenging to make sure that people comply with signing up the day before so they can do the seeding Saturday night and then put it out on Sunday for the first games on Monday. And another challenge is making sure that people can be there for all the games they have committed to playing. And the CSA being the organization that it is we have very few challenges regarding being fair. If people are in doubt, they'll remedy it themselves. The tennis committee tries to observe as many matches as possible but we rarely intercede.
What do you think is the most valuable attribute for a tennis player?
In addition to having a ton of athletic talent, I think the most valuable attribute is an even countenance, because you're going to miss a lot of shots and you're not always going to be at the top of your game. So being able to withstand those challenges and being able to resign yourself to the fact that you're at a certain level of play is important. And many of us that play here are playing for a number of reasons: we want to stay physically fit, have a good time, and we want to play as well as we possibly can. But we have to keep an even keel, and make sure we do all of those things and don't think that we're greater than we are.
Is there anything different about the tournament this year?
No. The tournament is going to be run pretty similar to how it has been in the past. We award small prizes to the winners of the events and the runners up. For the kids, we use little trophies because that's very important to them. We used to do that with adults but it's less meaningful. Most of the adults turn the trophies back in to the CSA. So instead of trophies, we started having small awards, like we might give them a five dollar gift certificate to the Crystal View. We've talked about doing t-shirts or something like that— just a small token. And at the end we take their pictures.
So do you have any idea who has won the most in recent years?
I don't know anyone who's won more than two or three times. And rarely are the champions in July the same as the champions in August. That's the nice thing about it— rarely do they repeat. This year could be different because we've got Colin Molloy and Patrick Kearney. They won last year and they're probably coming back again this year.
Is there a specific match or a specific tournament that is the most memorable in your mind?
Last year was maybe as strong an overall men's doubles tournament as we've ever had. We had five men's doubles teams and I thought any one of them could have won the championship. They were all very close games. So that was unusual. Usually we only have two or three doubles teams that could win but last year we had at least five— maybe seven— that were really strong teams. And some years you'll have a seniors' duo or someone that's 60 years old will win and last year we had a high school student and a college player win. The seniors enjoy playing against the young, up-and-comers and the young and up-and-comer whippersnaps love to beat the pants off the senior players. And so it's just a fun time. And you have a little crowd that comes out including the backers of both players and people that just like to watch tennis.
Any last advice for those competing this year—both for first-timers and seasoned CSA players?
Have fun.
Link to full tournament rules: http://summerassembly.org/activities/tennis