By Julia Davis
If you've passed by the Crystal View recently, you may have noticed commotion at the fire pit with kids roasting marshmallows and adults having a good talk and a laugh. Or maybe you have gone by the Meeting House and suddenly a new Wi-Fi network appeared on your Smartphone. Ever wonder how those changes—small yet significant—came about? Well, it all happens at the CSA Annual Meeting.
That fire pit at Crystal Lake and the internet at the Meeting House wouldn't have been possible without CSA'ers just like you coming to the Annual Meeting and proposing them. Along with other important business that gets discussed, one of the things that is a constant conversation—both at the meeting and on the beach— is what would you do to make the CSA a better place?
For some, it was having a fire pit installed to make up for the lack of a sandy, bonfire-friendly beach at Lake Michigan this year. For others, it was getting free Wi-Fi for all to use, especially those who need to check their work emails. As we prepare for this year's Annual Meeting, it's important to take stock in terms of the history that has been made at these yearly meetings. And what improvements that might come next season from this year's annual gathering.
The biggest concern at the Annual Meetings of the early 1900s was the growing desire of CSA residents to build barns on their property. The board was not happy with this and ultimately decided on banning the building of barns on CSA grounds. It's hard to imagine the Assembly woods dotted with bright red barns. They likely didn't have to worry about Swimmer's Itch, a topic that will surely come up at the meeting this year. Recently passed proposals include a ban on smoking at Crystal Lake Beach, and the existing policy on jet skis has been changed to say that they are to be operated and moored under the same guildlines as all power boats. Paddleboards will also now be specifically mentioned along with kayaks and canoes in the Fee Schedule under Type C Beach Boat Storage. If you have any questions or concerns about these policies, you are welcome to attend the meeting this Saturday and have your voice be heard.
The Annual Meeting is a great place to learn about what all of our committees have been working on this summer. Each committee presents a report detailing what they have been doing in recent months. You may be surprised to find out that some of the committees that were being formed at the Annual Meetings in the early 1900s still exist today. These committees include Spiritual Life, Buildings and Grounds, and Nominations. Another thing that happens is that the people in attendance at the meeting can vote on certain issues. What you may or may not vote on depends heavily on your membership status. According to the bylaws, Members, otherwise known as CSA lot owners, may vote on bylaw amendments, proposals that may involve a major change to the appearance of the Assembly, proposals that might involve a major change in the uses or availability for sale of Assembly property, a major purchase of additional Assembly property or a major change in the character of the Assembly. Associate Members, on the other hand, may vote on any other issues like the fire pit proposal.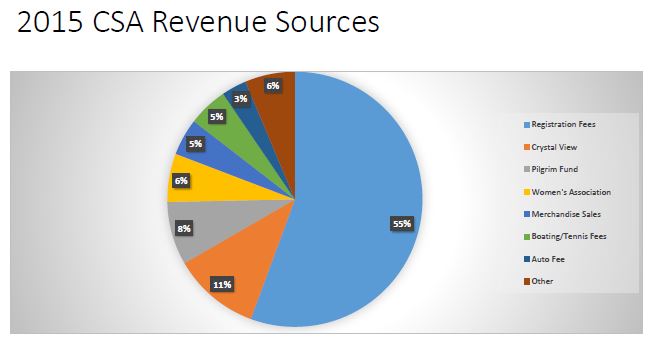 Many issues discussed at the Annual Meeting require financial support. The CSA has a budget every year, which comes from various sources including membership fees, the Crystal View and donations to the Pilgrim Fund. See chart of the breakdown of the CSA's revenue.
If you have any ideas on how to improve the CSA, you too can bring your own proposal and present it to the Board of Trustees. And it takes 40 people for a quorum---so get the coffee brewing and please come out at 9:30 Saturday morning, August 4, 2018