By Julia Davis - July 28, 2016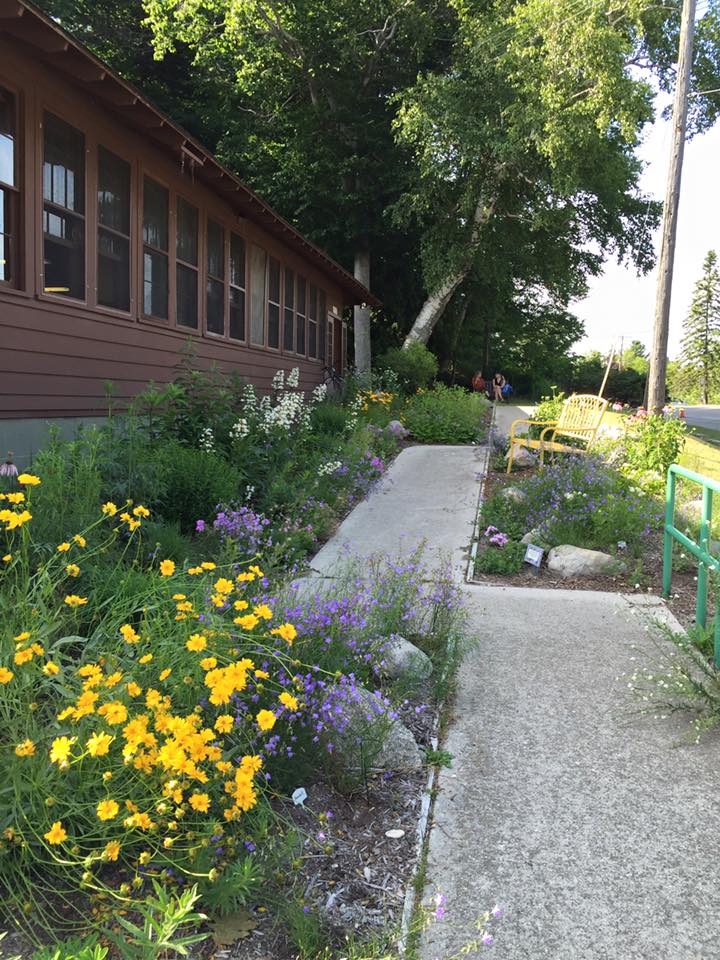 On a hot afternoon in late July, a group of children are eagerly gathered around the picnic tables next to the Assembly Building. Kevin Kinnan, a Benzie Central high school teacher and main instructor for the Ecology Fun program, is creating a glacier out of ice cream scoops, chocolate chips and coconut. Kids watch wide-eyed as he piles vanilla scoop on top of scoop until gravity gets the best of the ice cream tower and the scoops topple to the bottom of the pan - a fun and tasty way of illustrating the formation of a glacier. The crowd is huge, about twenty children have come out for this popular day of Ecology Fun, and not just because there is ice cream involved.
The Ecology Committee was formed in 1990 and has been hosting the popular program for kids for almost 10 years now and although this program is a CSA favorite for kids the Ecology Committee actually does a lot more than just Ecology Fun. According to Committee Chair Linda Campbell, the purpose of the committee at the time of its formation was to report on the condition of Crystal Lake and the erosion of the Lake Michigan shoreline but it has expanded greatly since then.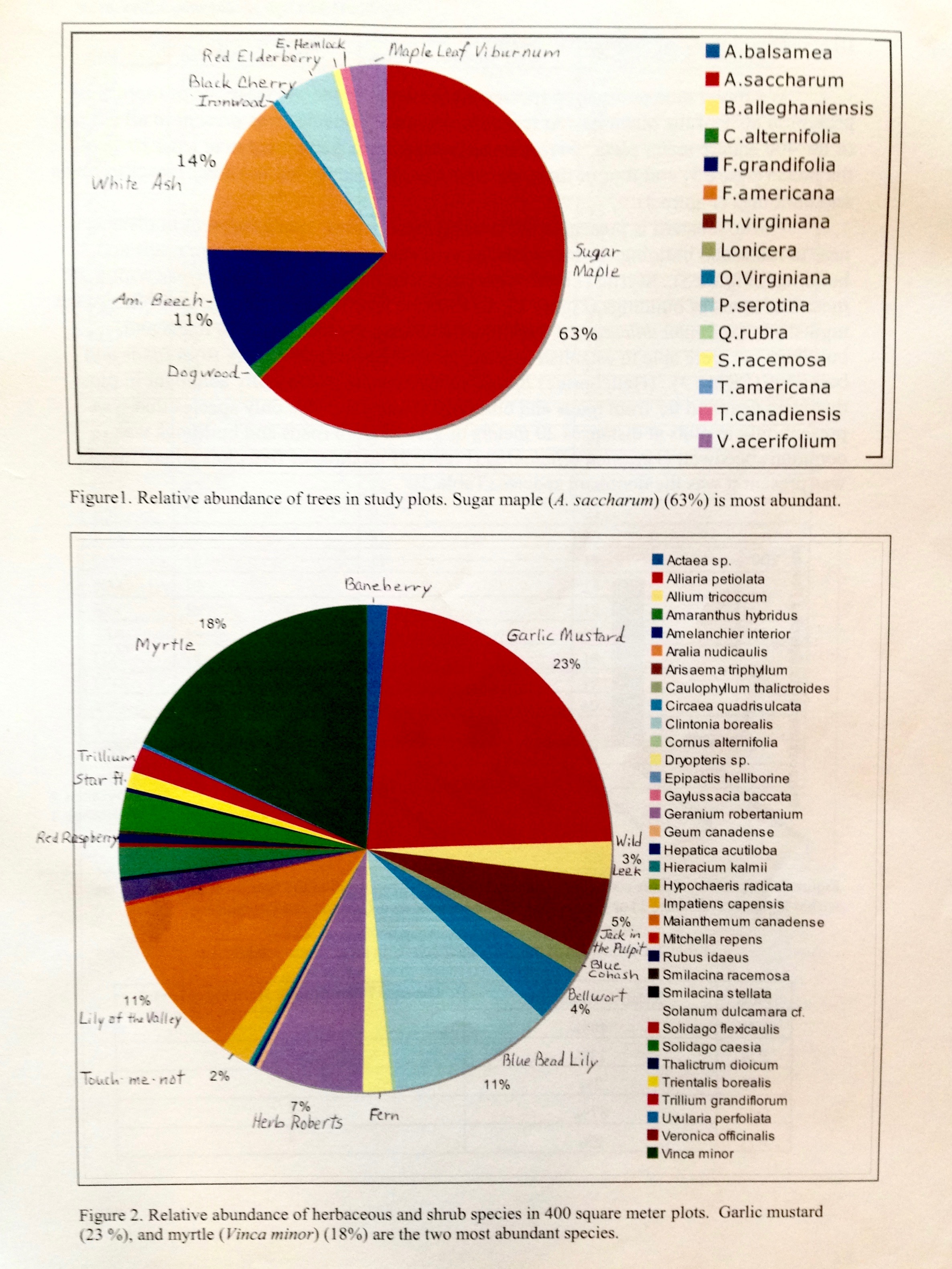 One of their biggest successes besides the Ecology Fun program has been a major environmental assessment of the CSA grounds, which was completed in 2009. Using a random sampling of plots on the CSA, two interns worked alongside three university professors to take data on what species of trees make up our forest, what invasive species we have, and more (see chart). This is the most accurate information we have to date about our forest, and the report can be checked out from the office anytime. This research has been the basis for the committee's activities and program decisions. Committee member Nancy Baglan emphasized that taking a scientific approach and making sure actions are based on scientific research is a core part of the Ecology Committee's mission. The committee strives to be action oriented. This means not just putting out information to the community, but using that information to create meaningful programming and inform future endeavors.
Some recent examples of putting this information to work are the new Butterfly Garden on the east side of the Assembly Building and the committee's small forest restoration projects – like the wildflower garden on the east side of meeting house and a few trees planted on the other side of the building. Nancy and Linda agree that these projects are important as a way to let people know that they can do small things to restore their little section of the forest at their cottages. As Nancy pointed out, "We shouldn't try to make our woods look like a park-like setting. It can be a bit messy looking, but diversity is really important." Diversity in the forest creates a healthy environment.
The main challenge the committee faces is similar to that of many other committees at the CSA: getting volunteers, and figuring out the best way to access them. The Ecology Committee is still using porch sign-ups and word of mouth to garner extra hands to help with activities. Another struggle is that their only sponsors are the Women's Association, Pilgrim Fund, and donations; they are not an official budget item for the CSA.
A big upcoming problem for the CSA environment is an invasive grass, an example of which is on the Assembly Building porch and figuring out how to get rid of this. Because of the discovery of this grass, the Ecology Committee has made its next big project taking on invasive species like Dame's Rocket and Baby's Breath. They are partnering with the invasive species network in Traverse City to tackle these, which are quickly spreading in the CSA. Their goal is to get to a point where we can recognize invasive species early, before they spread making eradication impossible. They also want to go beyond beauty: taking out invasive species, like Dame's Rocket, that may look pretty, but are really a danger to other plants.
Nancy pointed out that not all non-native plants are invasive— in fact most are not. But the invasive species crowd out the native plants and the native plants are a vital part of our woods and the wildlife that live here. For example, monarch butterflies will only lay eggs on a milkweed plant; if milkweed plants were to be crowded out by invasive species, then there would be no monarchs here. Community efforts to keep invasive species at bay make a huge difference. Nancy and Linda agree that the push to get rid of garlic mustard a few years ago has been highly successful in decreasing the overall amount of it at the CSA and making our environment healthier.
Some of the Ecology Committee's upcoming events are the Wings of Wonder presentation, co-sponsored with the Women's Association on August 2 at 10:00am in the Assembly Building. Later that afternoon, they will host a bird banding demonstration at 5pm at the Michigan tennis courts and on Wednesday morning at 11am at the corner of M-22 and Thomas Road. The committee is also looking for volunteers to help restore and clean up Crystal beach of invasives on next Wednesday, August 3rd. Meet at 9:30am at the Doghouse. (Bring your own gloves.) Anyone who is interested in learning and contributing even a little to the CSA environmental future can join the Ecology Committee and all are welcome to attend workshops and volunteer.